"Since we used the cooler with the new Intralox technology, we have considerably reduced maintenance interventions due to unexpected belt breaks and we have managed to increase the productive capacity of the line by approximately 18%; in addition to complying with the required temperature requirements in the process, thanks to the good performance of the system's cold equipment"

Mr. Gustavo Melano
Head of Maintenance at La Italiana
About The Italian
La Italiana is a family business, located in the city of Río Cuarto, Córdoba – Argentina, dedicated to the manufacture of pasta since 1955. From its beginnings, the vision of its founder was to expand, expanding, in the following years, the capacity of production for the elaboration of fresh pasta. Always at the forefront in terms of technology and quality, towards the '90s it implemented the pasteurization process in all its products, and in 2004 they obtained the ISO 9001:2000 Certification, complying with international requirements. Today La Italiana is a company in constant growth, with the capacity to adapt to the requirements of various markets.
Challenge
La Italiana needed to replace equipment on its production line that was failing due to design and manufacturing problems. The old spiral constantly suffered lifting of the band, which had a direct impact on a drop in its production, making it impossible to cover the stipulated daily quota and a lot of work for the maintenance sector.
Solution
From Abreu S.A. The construction of a cooling spiral was proposed, manufactured entirely in stainless steel, with Intralox plastic belts with DirectDrive technology, which provides low belt tension and smooth and continuous operation, and allows the products to be kept in their original position. along the process.
The equipment has an electrical panel with a 7″ touch screen for its operation. The floor is also made of stainless steel, with a slope for the channeling of water during the cleaning process. Likewise, the equipment is equipped with a module for cleaning, evaporators with stainless steel tubes and fans with aluminum blades, all components within a polyurethane panel enclosure.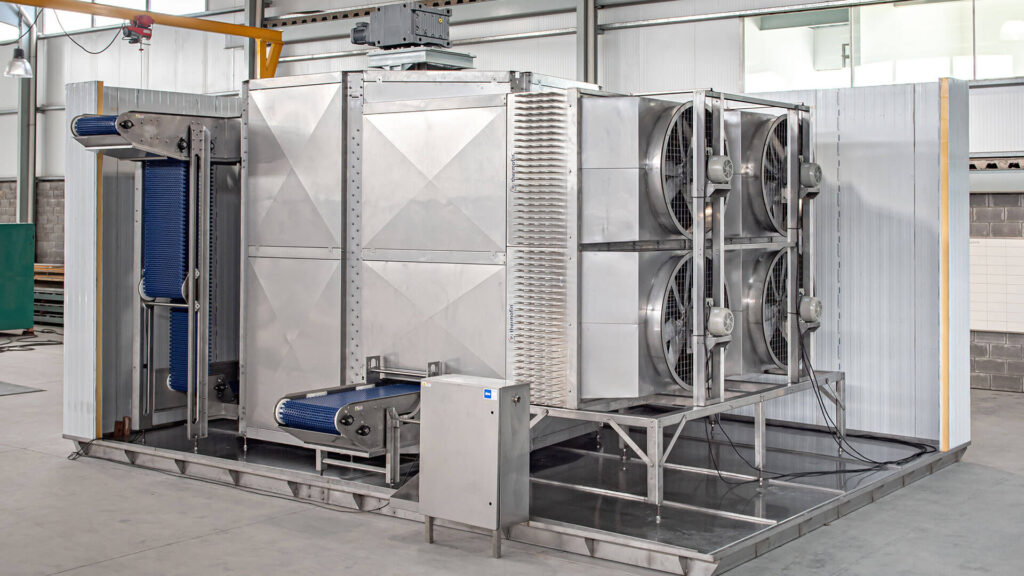 Results
The cooling spiral, intended for the production of empanada tapas and pascualina discs, allows them to enter the equipment at 27ºC and leave it at 7ºC. Its production cycle is 24 hours a day, 6 days a week, allowing the company to cover the proposed production quota, and resume a continuous production process, by ceasing to suffer interruptions due to problems with the lifting of its belt. old team.
The incorporation of this spiral has exceeded the expectations of La Italiana. Not only has it improved the quality of its products, due to the removal of marks and the reduction of unnecessary product damage, but at the same time it has made its production much larger and more efficient.